Amiram Katzman,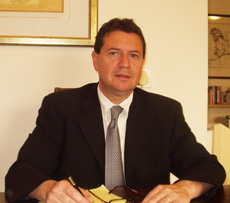 Founder, President and CEO of Prodan Networks Ltd.
Amiram Katzman is a business entrepreneur who has acquired vast international experience duringthe last 10 years as an investments and market entry advisor in the field of "traditional economy" as well as in the Hi-Tech and venture markets.
As a business development manager, Mr. Katzman has established an international dominant presence through local associating partners in key markets.
Previously, for close to 20 years, Mr. Katzman held high-ranking managerial positions in various governmental authorities and non-governmental large-scale systems, specializing in Homeland Security as well as in the business information sector.
Mr. Katzman holds an MA in Political Science and National Security from The University of Haifa, a B.A. degree in International Relations from The Hebrew University of Jerusalem and is a graduate of an extensive John Bryce Systems Analysis Studies Program.
Thomas (Tommy) Lirase

Mr. Lirase has joined Prodan Networks after performing as a business development manager at Inteltech International and as a consultant at Green Power Technologies and after 26 years in high ranking managerial positions in various governmental authorities.

Mr. Lirase has a special expertise in German and Spanish speaking countries and in HR management.
He holds an MA in Political Science from the University of Haifa and Graduation of Business Administration studies at Raanana College.
Advisory Board - Prodan Networks Ltd.   
Doron Friedman
Doron Friedman is B.Pharm., M.Sci and PhD from the Hebrew University of Jerusalem School of Pharmacy in pharmaceutical sciences and a registered pharmacist.
Doron's expertise are in bio-pharmaceutics, Drug Delivery Systems, pharmaceutical formulation, drugs oral absorption and bio-availability.
Doron's record encompasses academic and industrial experience in managing pharmaceutical R&D, product development from bench idea to the market. Doron's experience is in innovative delivery solutions for water insoluble and amphiphilic pharmaceuticals comprising lipidic drug delivery systems, anhydrous emulsions and liposomes. Doron has published twenty pear reviewed papers and over sixty patents in the area of drug delivery systems. Doron is the inventor of Loteprednol etabonate eye drops, Lotemax and Scytera topical foam formulations, and various topical products.
Didier Toubia

Medical device consultant
Mr. Toubia has an extensive expertise in international business development and marketing process with a special experience in Life Sciences. Mr. Toubia is the Founder and Chairman of the "Forum of Biomed Israel-France", a Partner at "Cukierman &Co. Consulting" and the CEO of NLT Ltd. Previously he was the founder of IceCure Medical (creosurgery company), a co-founder of Surgivision (a medical device company), a founder and manager of Maya Software Technology and a researcher in Biochemistry and Biotechnology at the Volcani Institute - a leading Israeli research center in biology-related fields.

Mr. Toubia has gained expertise and capacities of international management, entrepreneurship, fund raising and M&A. He is highly connected to the VC market, to industry players and to financial institutions in Israel and in Europe . Mr. Toubia holds a M.Sc in Biology and Engineering from the University of Bourgogne ( France ), a Specialized Master in Audit and Consulting from ESCP-EAP ( France ), and a joint International Executive MBA from the Kellogg School of Management, Northwestern University (USA) and the Recanati Graduate School of Business Administration, Tel Aviv University
( Israel ).

Asaf Cikman
Asaf Cikman is a seasoned executive in the Israeli industry.
With an excellent track record for the last 30 years, he has held senior management positions in manufacturing, such as 11 years as CEO of Gaash Lighting - the Israeli leading company in this field.
Asaf holds a Master of Business Administration from the Hebrew University.
Itai Ben Dor

IT senior consultant.
Mr. Ben Dor has over 30 years of substantial experience and management in various IT fields, he has been in executive management positions in the IT world and in four ISV companies (NDS, Tescom, BMC and Emblaze). Mr. Ben Dor has a proven track record of bringing successful software products into the market.
Avner Barnea

Competitive Intelligence Strategic Consultant
Mr.Barnea is a strategic consultant in the field of Competitive Intelligence (CI) and Business Strategy in Israel and abroad and has an intensive experience in the integration of CI advanced systems into Israeli corporations.

He is a lecturer on CI in the MBA program of the Ono Academic College, also lecturing in various business executives training programs and is the academic director of the course on CI in the Israeli Center of Management.

He is a former senior member of the Israeli Intelligence Community, and a holder of an MA from the Hebrew University of Jerusalem and graduate the Top Executive Program in Marketing Management from the Tel Aviv University Graduate School of Business Administration.
Advocate Sa'ar Plinner

 



Advocate Plinner is an expert litigator in Intellectual Property rights and has set precedents in the field 
of software licensing, internet-related cases and slander suits. 
Mr. Plinner is a partner in the law offices of Zysman, Aharoni, Gayer & Co (ZAG ) and heads the Intellectual Property department in the Tel Aviv office. This department focuses on protecting intellectual property rights in areas including copyrights, trademarks, domestic and international designs and patents, intellectual property copyright protection and litigation and patents consultation, as well as rights and authority agreements, copyright management, domain name protection and various internet-related and e-commerce issues.
Mr. Plinner is a member of the International Trademark Association (INTA), the International Association for the Protection of Intellectual Property (AIPPI) and the Israel Internet Association. He is a lecturer of Computer and Internet Law at the Kyriat Ono School of Law in Israel and is also the manager of the intellectual property rights forum on the legal website Ratio. Mr. Plinner completed his studies in law at Reading University in England in 1991, when he received his LL.B. He has been a member of the Israeli Bar Association since 1993.
Jacob Shulevitz
Mr. Jacob Shulevitz (C.P.A.) has vast international experience in conducting M&A's investments and in analyzing mature companies and business ventures. In particular he has gained special expertise and know-how in the pharmaceutical market. As the managing director during the past five years, he has led Ranitech Ltd., a publicly traded holding and investment company on the Tel Aviv stock exchange, to numerous successful investments in various fields. Previously he held senior executive positions in the leading accounting firms in Israel . Mr. Shulevitz is a graduate of Bar-Ilan University in Israel .